On the morning of January 14, 2023, Nichole Niesha Nolon exchanged time for eternity and answered the call of her creator to "Come unto Me and Rest. . ."
Nichole Niesha Nolon, 47 was born October 11, 1975, in Cuyahoga County, Ohio to Judith Nolon and Anthony McDonald of Cleveland, Ohio. Affectionately known as Treece, she was reared in Havelock, North Carolina under the tender love and care of stepfather Wilbur Boone Sr., mother Judith Boone, and aunt Evon Godette (Beverly).
Nichole's walk with God began at an early age. She was a devout believer in Christ and faithfully attended Praise International for over 20 years. A dedicated member, Nichole sang in the choir and actively attended Bible Study. Stressing the importance of faith throughout her journey, Nichole knew, with God, anything is possible. NICHOLE'S WALK WITH GOD ENCOURAGED HER.
In 1993, Nichole graduated from Havelock High School and began a journey of professional and personal aspirations. Reared in a family with entrepreneurial roots, Nichole's love for family and natural gift of service and ministry destined her to the medical field of patient advocacy. As an independent sales consultant in the greater Charlotte area, Nichole loved her contribution to others and was often recognized for her exceptional performances. NICHOLE'S WALK WITH GOD INSPIRED HER.
Full of love and laughter, competitive, and driven in personal pursuits, Nichole lived a life of love and service. Ever the explorer, Nichole was always prepared for new experiences. A faithful fan of the Kansas City Chiefs, a skilled culinary artist, and a gardener, Nichole never met a stranger, and was always a kind and dependable friend who displayed faith, courage, and strength. She was often the life of the party who filled spaces with laughter and joy. NICHOLE'S WALK WITH GOD KEPT HER.
Nichole enjoyed her final New Year with her children, parents, and siblings, in Charlotte, North Carolina. Two weeks later, Nichole received a greater Call and breathed her last breath. NICHOLE'S WALK WITH GOD CARRIED HER HOME TO GLORY IN PEACE.
Nichole will live on in the lives and hearts of those whom she touched and loved. She leaves to cherish her memories, her children; CaNiqka Nolon of Charlotte, NC and Justyn Nolon of Havelock, NC; parents Wilber and Judith Boone, Mu mother Evon Godette (Beverly) of Havelock, NC, siblings; Wilbur Boone Jr., of Havelock, NC, Kareem Boone of Arapahoe, NC, Davon Boone of Havelock, NC, and Javon Boone of Hope Mills, NC; one niece Seven-Hazel Boone; a host of aunts, uncles, other relatives and friends. NICHOLE'S WALK WITH GOD CONTINUES TO BLESS.
A funeral service was held 2:30 pm Sunday, January 22,2023, at Praise International Church, Havelock.
Condolences and life tributes may be sent to the family at www.noebrooks.net
Arrangements by Noe-Brooks Funeral Home, Morehead City, NC.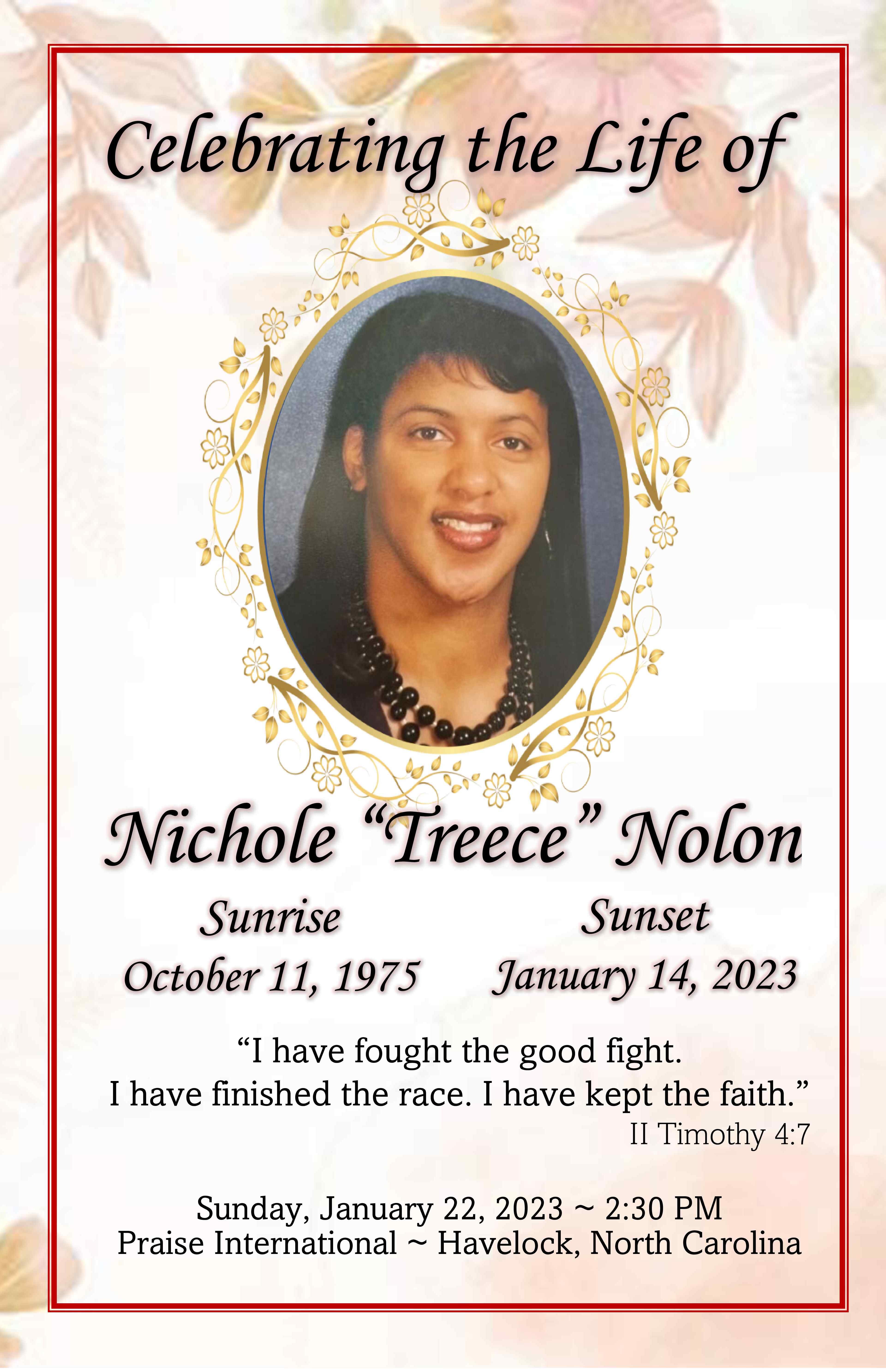 Nichole Nolon's Memorial Folder
To send flowers to the family or plant a tree in memory of Nichole "Treece" Nolon, please visit our floral store.