Pastor Vera Lee Murray, 83, of Newport went home to be with the Lord on Thursday, June 16, 2022, at Carteret Health Care in Morehead City, NC.
Pastor Vera was born in Belgrade, NC to Lee and Mary Spicer on September 11, 1938. She started her career in the Onslow County school system as a secretary and bus driver. Pastor Vera was ordained as a teacher in the body of Christ under the leadership of Apostle L.O. Sanders at Deliverance Evangelistic temple in Jacksonville, NC. Pastor Vera then went on to marry the love of her life, Apostle Willie Lee Murray Sr, on September 24,1978. She then became the Pastor and church administrator of God's City of Refuge where she served faithfully for more than 40 years. Throughout her ministry she was honored to travel along with her husband internationally as well as mission trips to Hatti.
In addition to her parents, Pastor Vera was preceded in death by her loving and devoted
"Honey", Willie Lee Murray Sr., three brothers: George Spicer, Romie Spicer, & James Loftin, and two sisters: Lela Mae Spicer and Carrie Delaney.

Pastor Vera leaves to cherish her memory, two sons: Ira Lee Spicer of Jacksonville NC and Willie Lee Murray, Jr. of Newport NC, two daughters: Lena Murrell (Ezekiel) of Beaufort NC, Ester Lightfoot of TX, one brother: Isaac Loftin of Belgrade NC, three sisters: Mary Loftin Jefferson (Arnold) of Shreveport LA, Dorothy Bell Shepherd (John) of Jacksonville NC, & Doris Williams of Belgrade NC. Eight grandchildren: Andrena Purvis (Robert), Teshia Hackler, Chavonda Yelverton (Jason), Torisha Dozier, Jacqui Isom (Eddie), Jeremy Lightfoot, Jessica Murray, and Lakesia Dozier Slade (Willie), nine great grandchildren, three sisters-in-law: Helen Robinson of Newport NC, Glenny Murray of Beaufort NC and Carolene Shephard (James) of Beaufort NC, two lifelong best friends: Gladys Burton of Belgrade NC and Vandella White of Jacksonville NC, and a host of nieces, nephews, cousins, and friends.
The family would like to extend a sincere thank you and appreciation to Mrs. Angie Harkley and Mrs. Christine Carter for providing excellent care to our beloved Pastor and to both Sister Edna Kearney and Sis. Cole Pettaway who served faithfully as Pastor's Armor Bearers.
The funeral service will be 12:00 p.m. Thursday, June 23, 2022, at God's City of Refuge Church in Newport, with interment to follow in the church cemetery. The family will receive friends from 6-8 p.m. Wednesday June 22, 2022, at Noe - Brooks Funeral Home in Morehead City.
Condolences and life tributes may be sent to the family at www.noebrooks.net
Arrangements by Noe-Brooks Funeral Home, Morehead City, NC.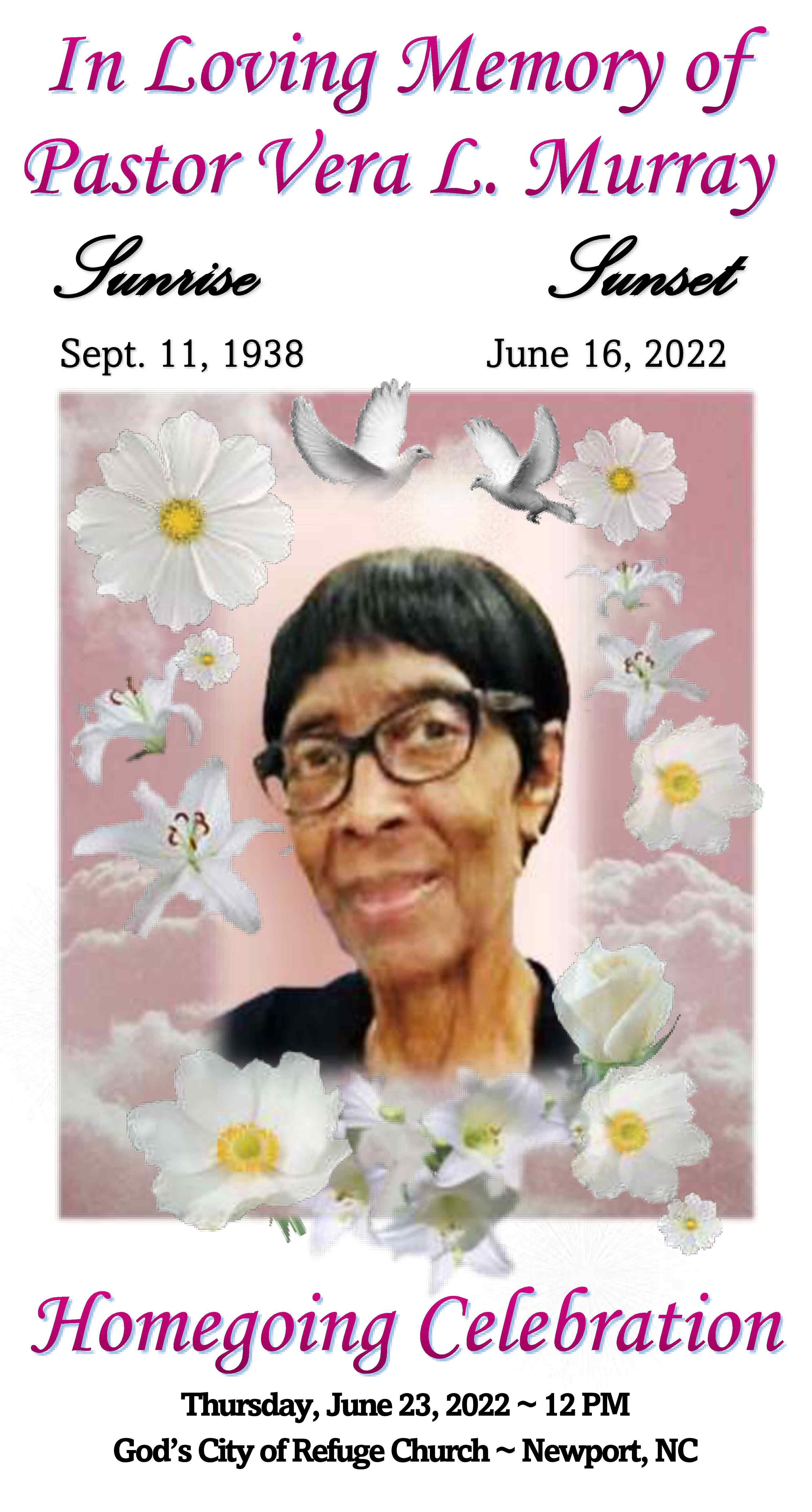 Pastor Vera L. Murray's Memorial Folder
To send flowers to the family or plant a tree in memory of Pastor Vera Lee Spicer Murray, please visit our floral store.